September 20th, 2016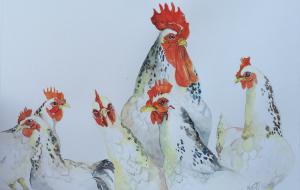 I am pleased to announce that I will be featured in the October 2016 Southwest Art Magazine Collectors Issue. Also, I just recently posted a new painting. WHICH WAY DID IT GO is a watercolor of a group of white chickens. They were looking every direction as I took the photo so the name instantly popped into my head. I truly enjoy art of all kinds. It's wonderful and peaceful to be able to create.
April 9th, 2016
I love flowers of all kind. English Gardens, wildflower farms, bluebonnets , botanicals are some of my favorite . My mothers side of the family have English roots and I think the English love of the floral is within me. A few days ago, I gathered roses from one of my climbing rose bushes and set up a still life. It was a beautiful day to paint "plein air" and I was joyfully painting to my hearts content. Awww the smell of clean country air!!!! Wait, what is that smell? SMOKE, a big low hazy cloud headed my way. Turning to the left, I saw my neighbor had decided to burn brush on my painting day. Oh Misery !!! I gathered, quickly, all my painting supplies and headed to my studio. ROSES was created that day despite the interruption. And I still like my neighbor and painting roses outside.

ROSES newly posted on my website. Please check it out. Do you see any smoke on it?
September 6th, 2015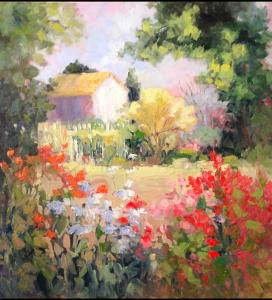 I have painted many years with the traditional oil paints. I love the soft, buttery movement of oil paints. Unfortunately, like many oil painters, I can no longer paint with them because of health issues. I started painting with acrylics and although I do like them, I missed the soft, buttery paint, especially for my landscapes. I invested in a small set of the Holbein Duo Oils and started practicing with them. As with any new medium it took a few tries but finally I accomplished an oil I was happy with. I learned that the water based medium is the secret. It allows the paints to mellow out and go on easier. Also, although the paints are water based, I use very little of the water while I'm actually painting. The clean up with water is fantastic and there is NO ODOR. The painting being shown is VILLAGE FLOWERS. It is a 24x24 water based oil. Village Flowers will be featured in the October 2015, Collectors Issue of Southwest Art Magazine. Yes, I would recommend water based oils!
June 24th, 2013
I recently committed to painting 100 plein air paintings by the end of this year. They will be 11x14 acrylics. This morning I started bright and early doing sunflowers in my garden and then did a potting shed painting of geraniums. I intend to capture the essence of a scene and will try my VERY best not to work a painting to death. Hopefully, at the end of the 100 paintings I will have acquired new info on light, shadows, and how to paint with less information but will have more to say. Wish me luck as I continue this journey! BTW, I have five paintings and started on June 15th.
June 13th, 2013
I opened a new image gallery showing plein air landscapes . I've heard from many artists that painting outside, PLEIN AIR, is the greatest improver of ones art. I believe this is so true, so I have determined to paint 100 11x14 paintings by the end of the year. This is an experiment to cull out clutter and simply my paintings. I will continue to post as I create each new painting. It will be interesting to see what I learn. To be continued..... On this first painting I had to pay attention to the different values of green. I grayed most of them as they were too garish otherwise, I have painted in oils for many years and just recently switched to acrylics. I am learning how to tone down the brighter colors.